I have yet to realize the above scenario. It turns out Tolstoy rarely surfaces in California small talk. Luckily, the blog format allows me to start my own conversation but it might be too late. I haven't given Leo much thought for decades. To test my knowledge retention, I'm writing this post without using references.
My favorite Tolstoy novel was the lesser known Resurrection, written relatively late in his life. I don't recall the hero's name but basically the plot was as follows. An aristocrat serving as a juror recognizes the woman on trial as the same girl he and his friends gang-raped years earlier. Overcome with guilt, he accompanies her to prison in Siberia. She is not enthusiastic and, as I recall, it doesn't turn into a love story. It's more about the guy's spiritual journey. It's shorter than War and Peace and Anna Karenina.
My second favorite was Anna Karenina but I confess skimming the parts about Levin. Tolstoy used Levin to pontificate on rural Russian agriculture, not exactly a page-turner. Given this, it's ironic the section of the book I remember and admired most involved the deadly dull Levin.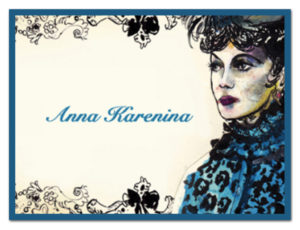 Here is how I remember it.  Levin has been set up with an eligible woman (after suffering rejection from Kitty, the woman he wants and – spoiler alert – later gets.) They're picnicking near a river. Tolstoy describes a moment in their conversation where they both realize – or decide – this relationship is dead in the water. The energy level drops but nothing is said. No doubt some of my admiration for this passage is due to having experienced similar moments myself although I couldn't articulate them as well.  In a future post, I'll paste the passage in question into my blog and attempt to analyze why it works – or I'll admit my memory failed and what I recall reading doesn't exist. (It appears this may, in fact, be the case. I'm mortified.)
My favorite Tolstoy short story is the Kreutzer Sonata in which the aging Leo rails against the evils of lust, sex and women. In reality, Tolstoy's wife Sonya got pregnant shortly after its publication and referred to the baby as "the postscript to the Kreutzer Sonata."  It's a passionate story, raging against passion.
Ask me what I know about Dostoevsky or Chekhov and the answer is "not much." But just wait until someone brings up Leo Tolstoy at a cocktail party!
Here are a couple of shots of our visits to Tallinn, Estonia and St. Petersburg, Russia.