I'm still here but things changed after I arrived. The sex, drugs and rock'n'roll party that started in the sixties ended with the gruesome murders of pregnant Sharon Tate and her friends. Fear and suspicion replaced peace and love. The Eagles chronicled – or eulogized – the death of the Summer of Love in their iconic Hotel California.
How and why did these murders make such an impact?  For starters, due to up close and personal overkill, it was assumed the victims knew their killers. No clues pointed to a person of interest so no  one in LA was above suspicion. Paranoia strikes deep when every name in your Rolodex could be a killer.
Pervasive free-floating fear didn't burn off like the August haze. The slaughter of the La Bianca's  on the following night upped the ante. Rosemary and Leo weren't movie stars snorting coke in Bel Air. They were you or me or your parents. When death breached their Los Feliz door, it meant yours might be next.
Manson and his minions weren't the only plague in town.  LA observes octoberfest with raging uncontrollable wildfires leaving denuded mountains leading to mudslides in Malibu. Don't forget the Big One is running a hundred years late for its date with the San Andreas fault. LA is grid-locked, crowded, congested, polluted and will never be half as hip as New York (according to New Yorkers).
So why do I and four million others stick around? A cynic might say because of inertia and fear of change. Maybe they play a part, but so does LA's golden hour before sunset – movie magic in your own backyard.
Then there's our outstanding albeit occasionally boring weather, free of inconveniences such as snow tires, broken levees, hurricanes and tornados. The Pacific is an hour away from most LA suburbs  if you don't hit traffic. On a clear day you can see Catalina. In a stage three alert, you can't see much.
LA is the antithesis of the Cheers bar in Boston – it's the place where nobody knows your name – but that's not always a bad thing. For anyone desperate to start over, LA's the place. You can be whoever you want when no one knows who you used to be.
I know Randy Newman's ode to LA is meant to be ironic but I sing it loud and proud because – on days when I don't loathe LA – I honest to God love it.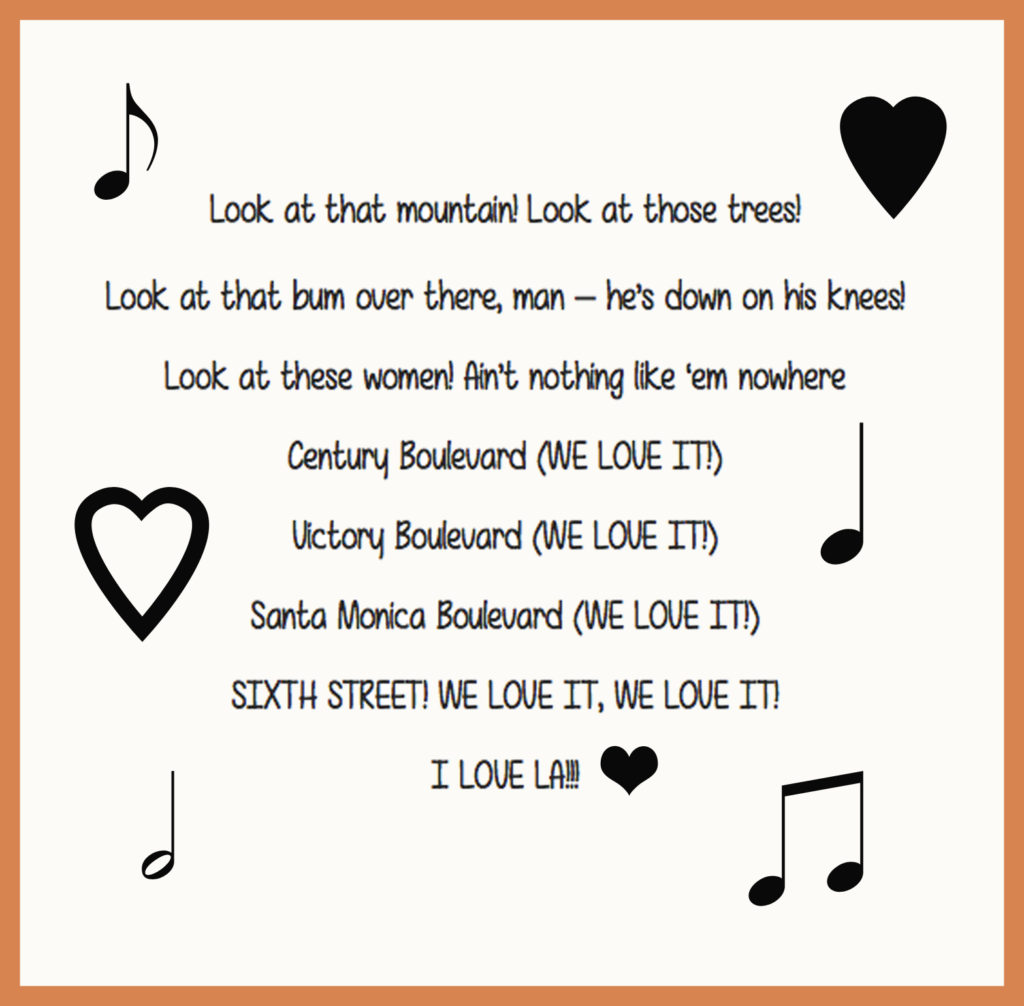 I love Randy Newman, too.