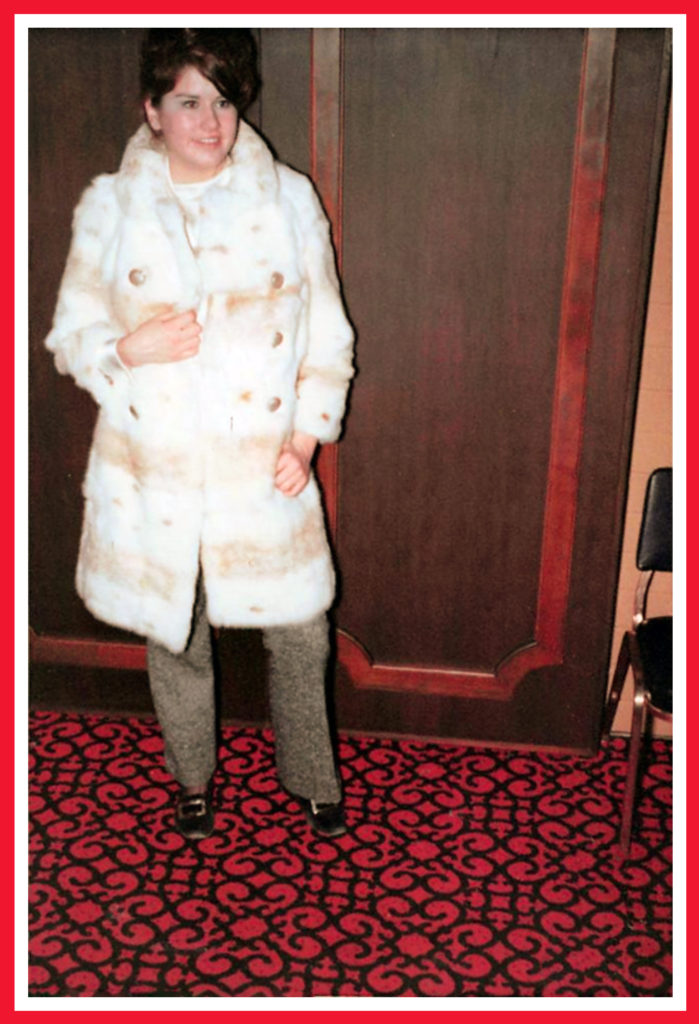 This event was an anomaly, the farthest thing from a typical day in my life. My prior attempt to model a dress I made in 7th grade home economics came to a humiliating halt when I discovered I neglected to leave arm and neck holes in my garment. (How did this happen? When I failed to spot where I'd made a mistake, my teacher smirked and urged me to "model it for the class." It was a lesson I never forgot.)
How did I come to model chinchilla coats and wraps?  JoAnn aspired to be a model and her father raised chinchillas. In 1969 it was not politically incorrect to wear fur or raise animals to become fur. Almost six feet tall and gorgeous, JoAnn was the show-stopper. I tagged along because at 5'9" I was one of her taller friends.
Somebody else did my make-up and hair. Never – not before or since – has my hair looked anything like it did that night.  Given my life has been one long bad hair day, I've got no right to complain – but still. Let's just say my up-do hasn't stood the test of time.
Much like my other insane early aspirations – trapeze artist, ballerina and cowgirl spring to mind – I daydreamed about a thrilling career as a model. I suspect a lot of girls did the same because superstars like Twiggy and Jean Shrimpton made it look so gosh-darn cool.  My one night modeling furs at the Hyatt House was as close as I ever came.