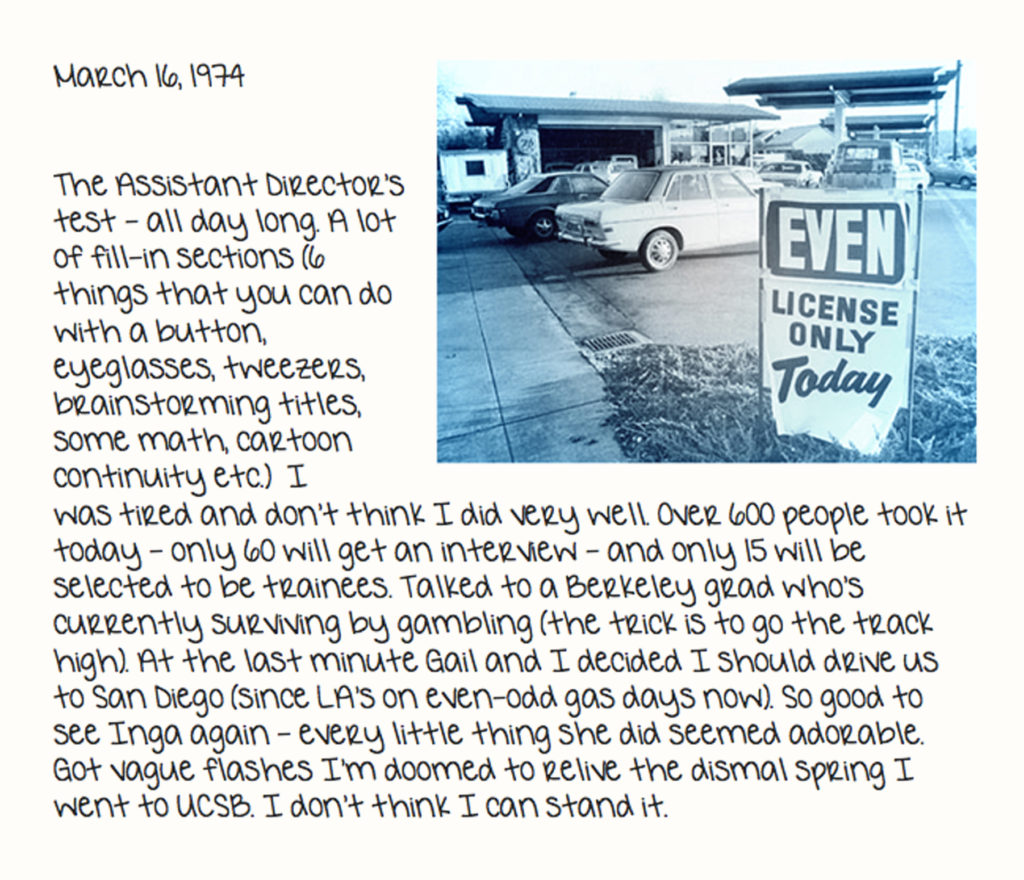 To develop new talent, the DGA accepts applications to their Assistant Directors Training program once a year. The lucky few who ace the test and then the interview spend the next two years as salaried AD trainees on films or TV shows.  Completing the program earns you membership in the DGA and a shot at a career in production. The odds of success are approximately 2.5 percent, I think. My math hasn't improved since I failed the test in 74.
A few ADs transition to directing. Walter Hill was an AD trainee on Woody Allen's Take the Money and Run. However, it was his writing skill rather than his AD experience that broke him into directing. More typically, 2nd AD leads to 1st AD which leads to Production Manager, and then if you're lucky and so-inclined to co-producer, line producer or producer. These are hard to get lucrative jobs that often require ungodly long hours. I didn't take the test again.
My sister Janet didn't pass the first time either but she applied again. On her second attempt, she won an interview but didn't get selected. Undeterred, she went back for more and applied again. Her tenacity paid off – she got in. As a trainee, she worked on 9 to 5, the series Vega$, a quirky Jeff Goldblum pilot called Tenspeed & Brownshoe and various TV movies and mini-series.
As a 2nd Assistant Director she worked on Rocky IV where she cast my son Christopher as one of Rocky Jr's friends… he ended up with several lines in the scene and is still earning residuals.   Currently, she's a Co-Producer/Production Manager on the Judd Apatow Netflix original series LOVE. She also serves on the Assistant Directors Training Plan board (which has evolved since 74).
In college, her dual major was French and American Culture. Who would've guessed she'd wind up here?
Twice nominated for Primetime Emmy awards, Janet remarks, "Boston Legal didn't win but happy to be there & nominated."
Being both director and mom, Janet is trying to convince her son, Connor, to say "Bye, Dad" to the actor (a stranger) in the upcoming scene for "Sisters."  He's not going for it.  She's begging!