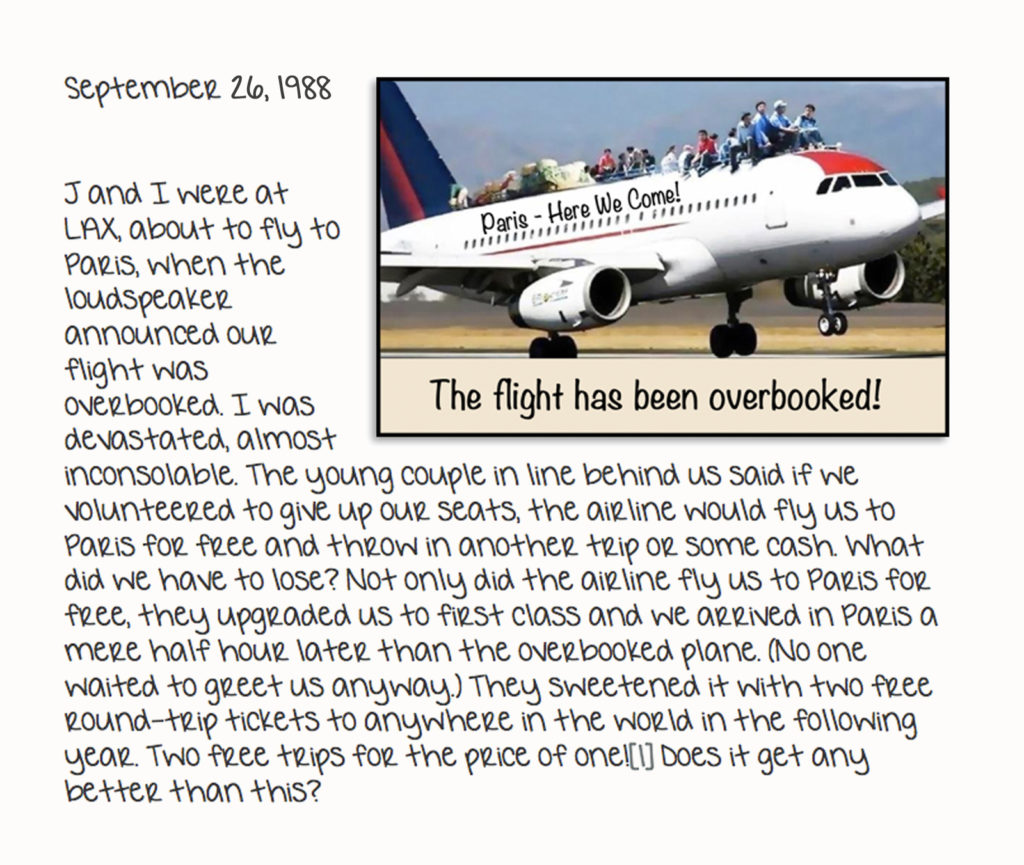 I call on this memory in times of trouble because circumstances reversed so drastically. In less than thirty minutes, utter despair about losing a dream turned to exhilaration about a vastly improved, doubled version of the dream – all with no great effort or sacrifice on our part. It was a gift we didn't expect or deserve, but there it was – almost as if there was someone watching over us.
I'm not suggesting God has a hot line to reservations at American Airlines or that J and I are so special, travel angels stand ready to perform miracles on our behalf. What the experience says to me is, don't judge so hastily. What appears to be a disaster might be a blessing in disguise. If you're too focused on life's injustice, you might miss the boon fortune wants to grace you with.
This insight is a lifeline when everything in my life simultaneously goes south and it looks like there's nothing left – a situation I've faced more than once. I remember that afternoon at LAX when instead of losing we won more than we knew to ask for. If that could happen – and it did – my present disaster might turn around too, even though I can't imagine how. I don't have to. The trick is to open my mind to possibilities instead of bemoaning my bad luck.
[1] A word of explanation. In 88, we wouldn't – couldn't – indulge in a trip to Europe unless it was free – which it was, thanks to a MasterCard promotion offering a free flight and lodging in Paris to customers who racked up 25 thousand Mastercharge points. Challenge accepted! We charged everything humanly possible and paid our bills on time, thus avoiding interest. Hence, the trip was free.