Robert Booth Nichols was one of the most fascinating, enigmatic people I've known. Although I spent many hours with him – and even more time reading and speculating about him (google if you're curious), I'm no closer to knowing if he's a patriot spy or an underworld thug/informant.
Bob lived well. In The Last Circle, Carol Marshall writes "in addition to his residences in California, he maintained residences in Italy, France, Australia, and London." In the NY Times, Bryan Burrough said some people believe "Nichols was a celebrity, a star of the conspiracy theory world who was portrayed on the Internet as a longtime CIA operative linked to a shadow world government, the holder of secrets from the Kennedy assassination to a World War II – era hoard of Japanese gold."
That's a minority opinion. Usually, the press depicts Bob as a villainous super-spook, a fraud, a con artist, hit man, member of a crime family, money launderer or snitch.  (Take your pick.)  While I'm all for free press and investigative journalism, sometimes they get it wrong.  On page 63 of the January 1993 issue of Spy magazine, this photo appears with this caption: "DANGEROUS FRIEND The "lethal" Robert Booth Nichols, 1992. He had a secret Casolaro knew."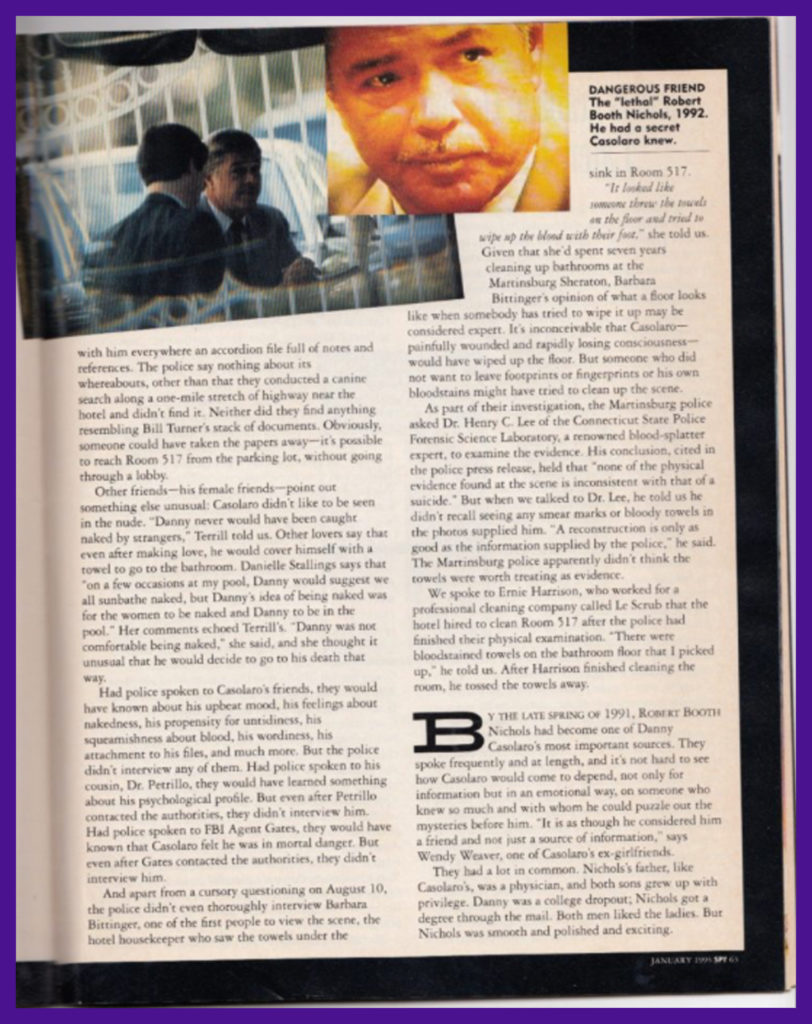 The "dangerous friend" in the photo is my husband J, Bob's lawyer at that time. They are conferring before an arbitration (which J won for 9 million, the largest arbitration verdict in LA to that point). They were not plotting to murder Danny Casolaro.  For what it's worth, Bob's father was a prominent LA surgeon and his brother is a highly-regarded LA attorney – not the family background that typically breeds mobster thugs.
Three FBI agents found time to personally attend Bob's 2008 deposition in NY, a mere three months before his mysterious demise. Under oath, Bob testified the CIA and other shadowy government agencies hired him for sensitive matters. They paid in suitcases full of cash, delivered to Bob's hotel by courier. To avoid pesky questions with potentially embarrassing answers, they advised Bob not to declare the income or pay taxes. His grateful government would give him a pass.
In June, 1992, J and I joined Bob at a conspiracy buffs convention (see flier).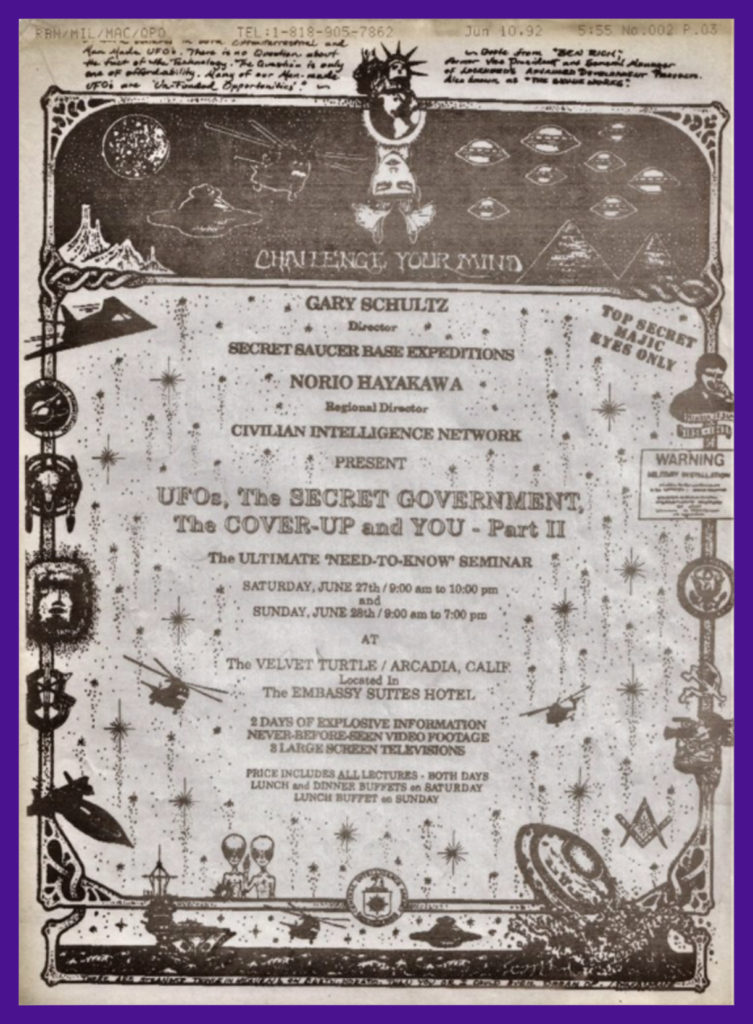 In a crowd like this, Bob was a superstar. Powerfully built and towering over six feet, he was hard to miss. Some people said he resembled "Clarke Gable without the ears." Being part of his entourage was how I imagined it might feel to hang with Paul McCartney at Beatlefest – an intoxicating blast.
In 1989, my family and I were in London at the same time as Bob and his wife Ellen. I watched him pocket over 100K "someone" wired into his bank account. Why? What for? Beats me. The next day, he flew to Singapore.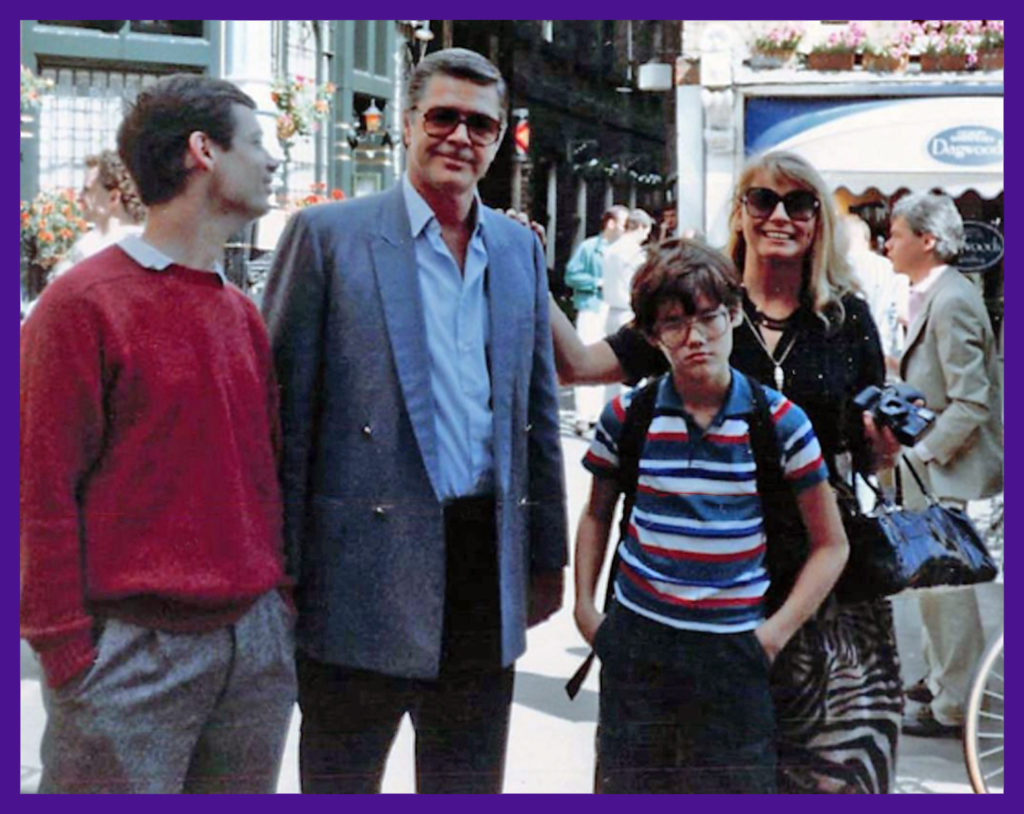 The so-called "facts" of Bob's alleged demise in Geneva, Switzerland, are as mysterious as his life.  Initially, a heart attack was deemed cause of death but later reports claim Nichols suffered a blow to his head. A "friend" arranged for swift cremation of Nichol's body. Like everything else about Bob, we'll never know for sure.
Some people don't believe Robert Booth Nichols died. Samuel Israel, the guy Bob allegedly scammed for ten million dollars (who is currently doing 22 years in federal prison for his own Ponzi scheme), insists Nichols is very much alive. Bob might have faked his death. Israel gave that gambit a shot and added two years to his sentence. Perhaps a foreign government or rogue branch of US intelligence spirited Bob away for "debriefing." This gets confusing, 250 billion in US Treasury notes might be in Bob's London safety deposit box, or his Singapore place, or in the hands of the FBI, or simply mysteriously missing.  Maybe Bob's just "missing," too.  The truth tantalizes, beyond our reach, exactly like Bob liked it (aside from the being dead part). He was always all about mystery.