NIALL BLACKBURN'S first and favorite guitar is a Gibson ES-335 with a sunburst finish.
 He also plays a Fender Stratocaster with a sonic blue finish,
a '64 Rickenbacker 325 with a black finish,
and a Martin D-28. And,
of course, the piano.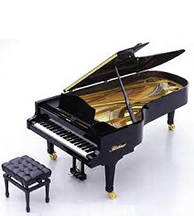 MARK HOLLAND likes Gretsch. He plays a '57 Duo Jet,
a Country Gentleman –
and his favorite – the White Falcon.
Like Niall, he also plays a Fender Stratocaster in sonic blue
and a Rickenbacker fireglo red sunburst electric 12-string.
CARL DEVORY started with a'62 Epiphone Casino ES-2301D

but soon graduated to a '61 Hofner violin bass.
He also plays a '63 Fender Precision Bass

and a '65 Rickenbacker 4000S with a fireglo red sunburst finish.
PATRICK KEEFE plays the drums.