HOLLYWOOD BOWL
You really can wander through it freely during the day, just like Niall and Rachel do. There are no guards or gates. You can stand on the stage and imagine what it would be like to play to a sell-out crowd of 17,000.  This is what it looks like.
Click on images to enlarge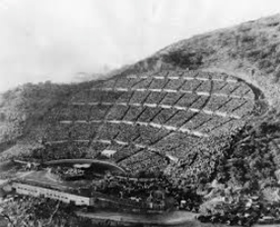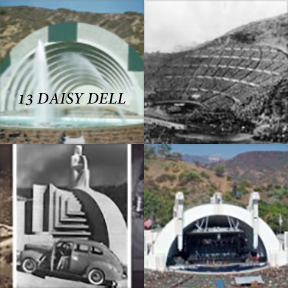 The Hollywood Bowl opened in  1922 . Its appearance changed over the years but always featured some variation of its distinctive shell. From 1953 to 1972, a reflecting pool separated the audience from the stage. There's a museum on the grounds if you're interested in a detailed history.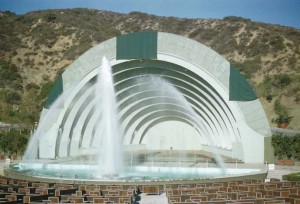 The address really is 13 Daisy Dell. Its inscribed in the business office downstairs in the back of the bowl.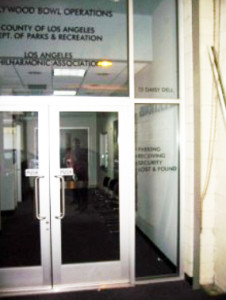 Here are a couple glimpses at what the downstairs dressing rooms look like.
HYATT CONTINENTAL
AND
VINTAGE SUNSET STRIP PHOTOS
Infamous in the late sixties and seventies for rock'n'roll debauchery – featuring Led Zeppelin, among others. It stands fourteen stories tall on the Sunset Strip. In the seventies, I had the misfortune of seeing some lost soul take a fatal dive from the roof. Today it is the Andaz West Hollywood.