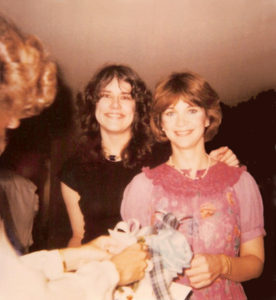 These photos were taken a couple years later – at her baby or wedding shower – but they're the only ones I can find of us together. It's surprisingly awkward to ask someone famous to have their picture taken with you, even if you know them – especially if you know them, actually – because you're supposed to treat them like just another average person. However, when they're at the peak of their fame and people gawk, it's hard to ignore the fact you're hanging out with a star. It's equally hard not to be aware that you belong on the other side of the red velvet rope, with all the fans and nameless people that don't get "seen about town" in Variety. I'm not complaining – far from it. It's exciting to orbit a star. I loved it.
Living in LA, it's not unusual to see stars going about their daily lives. I ran into Dick Van Dyke at a play and got to tell him how brilliant he was in a TV movie called The Morning After. I passed Arnold Schwarzenegger in a Beverly Hills restaurant.  He's much shorter than you'd think. My most memorable celebrity spotting, though, maybe because it was the first, was eating lunch at a table very close to where Cindy Williams and one of her co-stars from American Graffiti dined. I didn't interrupt them, ask for an autograph or gape openly – it was enough of a thrill just to spot a celluloid heroine eating like a regular human being.  Given this memorable (on my end) early sighting, the working relationship and friendship we developed later felt fated – in a six-degrees-of-separation way. We met because Cindy was looking for a writer. A mutual friend recommended me, for which I am forever grateful.
Don't bother looking for Little Miracles, the project we met about on May 13, 1980. The network shelved it. Luckily, our friendship survived.