A Catholic priest created the Wutzit Club to keep teen-agers off the streets. In 1966, it was on Newhall Street. It was open Wednesday, Friday and Saturday nights and featured a ballroom, stage, game room, television lounge and snack bar.  Dances were strictly chaperoned and a dress code was enforced. No alcohol – and nobody 21 or older – was allowed. Live mostly local bands performed; Buckingham and Nicks played there in '68, before Stevie Nicks and Lindsay Buckingham joined Fleetwood Mac. Dues (admission) was fifty cents – a small price to pay for the chance to meet the love of your life.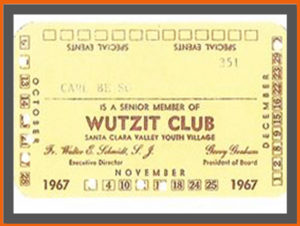 For people like me and my friends, who weren't part of the Wilcox High "In Crowd," the Wutzit offered an opportunity to meet non-Wilcox guys who didn't know we were dorks.  Males massed on the right side of the room. Girls milled on the left and waited for some brave boy to cross the great divide and ask us to dance. Our popularity – which in those days meant success – depended on how many times we danced.  Higher mathematics were not required in my case since it is hard to miscalculate one (1).
At the Wutzit, beauty got you asked to dance. (I suspect being under 5'9" helped but I can't prove it.)  While it's true other values – intelligence and persistence – are rewarded in the real world, it's equally true that real life tends to be easier for those born beautiful.
Today, girls don't need to wait by the wall. No social stigma attaches if they dance alone or with their friends. I applaud their freedom but can't help wondering if underlying values changed too.  I hope I'm wrong but I suspect more than a few millennials dancing alone still relate to the words Janis Ian wrote in 1975.