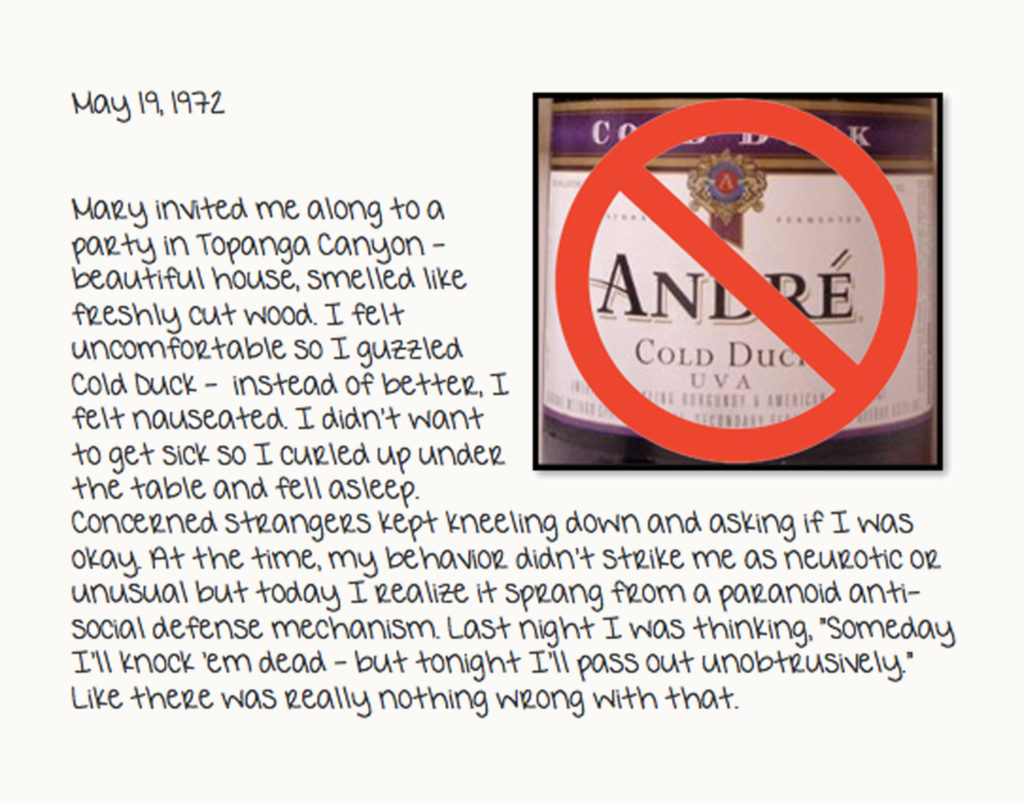 This is another one of those mortifying memories I would've successfully repressed if not for my diary. Obviously, at 21 my social skills were sadly lacking. I didn't even try to engage when I felt intimidated – the only thing I could think of to do was escape. If that meant falling asleep under a table, so be it.
I never did become a party animal. Truth be told, I'm uncomfortable at parties now – even small dinner parties. I think today there's a term for this – social anxiety – and it's considered a genuine psychological disorder. I believe I suffered from it then (and now). It was worse when this condition didn't have a name or diagnosis – when it was simply weird behavior.
Over the years, I learned to hide my social anxiety far more successfully than I did in '72.  I understood it sprang from extreme self-consciousness, the ridiculous fear that everyone was looking at me and judging all the things I did wrong.
For a few years, alcohol eased my self-consciousness and enabled me to socialize more freely but it was a temporary fix that – if anything – exacerbated my underlying insecurities. It was only after I gave up the crutch of alcohol that I began to make real (if slight) improvement. I'll never be the life of the party, but I don't think I'll crawl under a table and go to sleep anytime soon either – although sometimes I still want to.