My career had yet to begin. I was closing in on a paying gig as a writer but it hadn't happened yet. If you're in my situation – no prior job, no WGA membership, no credits – you need to do what I did. Seek out fellow young, hungry producers or directors, work out stories with them as a team, pitch them to anyone who will listen.
I was fortunate to find a friend and champion in David Bombyk, a smart, ambitious, charming guy from Michigan. He was a year younger than me. We laughed a lot when we got together to gossip or break stories. I can't remember who slipped my spec script to David – Martha Coolidge? Kip Ohman?  David and I partnered on several spec pitches and a couple of bona-fide (paying!) development deals but – alas – none of our joint efforts survived to see the light of day.
David made it big without me when he found, developed and co-produced "Witness" in 1985. The same year he produced "Explorers" and in 1986 he produced "The Hitcher" with his friend Kip Ohman.
Kip succumbed to AIDS in 1987 at age 41. I met David for lunch a few months later. He looked haunted and thin; he talked about how hard it was sorting through and dispersing Kip's belongings after he was gone.
It was the last time I saw or spoke to David. He died on January 20, 1989, age 36.  His mother got in touch with me shortly after the funeral and sent me a beautiful ceramic vase David wanted me to have. He collected them.
She was charged with the excruciating task of sorting through and dispersing her son's possessions. I can't imagine how painful that must have been.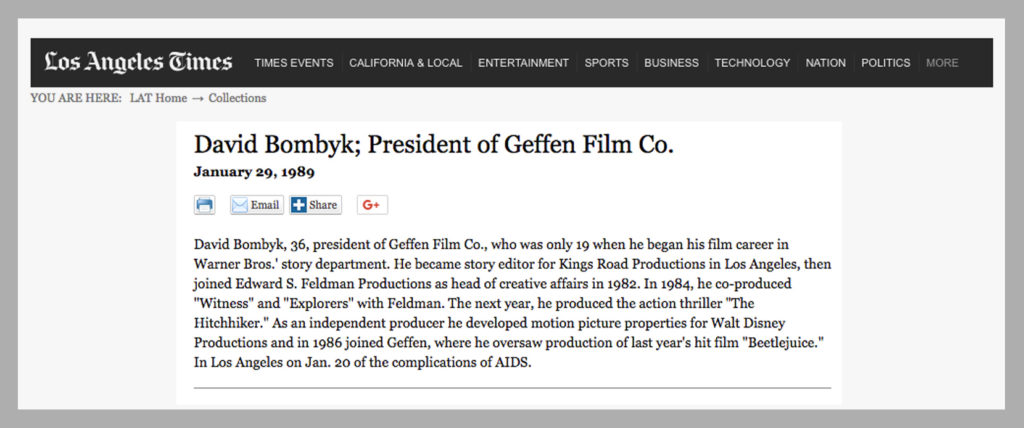 AIDS took a lot of good people, especially in the 80s. For me, David Bombyk was one of the great ones. Unfailingly kind, loyal to his friends and brilliant when it came to developing scripts. Witness has long been a staple in screenwriting classes to illustrate a near-perfect script. I see David's fingerprints on it. I don't know if I'd have a writing career at all if David hadn't believed in me before anyone else did. I'll always be grateful; I'll miss him and his laughter forever.