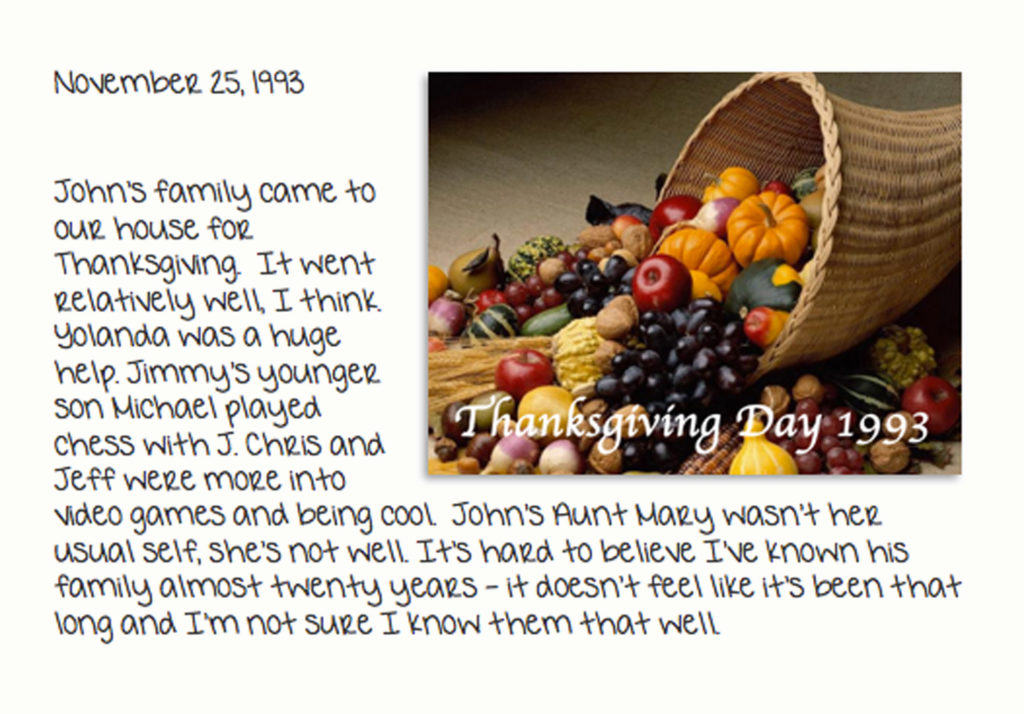 In the early years of our marriage, John and I alternated holidays between my family and his – Thanksgiving in Fresno, Christmas in San Diego, reversed in the following year. Gradually we spent more holidays with my family because my parents and sisters all moved within five miles of my home.
I don't recall when both of our mothers stopped volunteering to host Thanksgiving but they powered through longer than I could've. I can count on one hand the number of times we've hosted Thanksgiving at our house, largely because when the question arises – "where are we doing Thanksgiving this year?" – I'm hiding in the bathroom.
Fortunately, my failings as a cook and hostess are compensated by my sister Janet and her husband Jim McCann, who do Thanksgiving, Easter and Christmas ninety percent of the time. They are an indefatigable team, toiling from dawn till dusk to present the perfect meal without complaint (not entirely without complaint – but within civilized limits.) My contribution? Diet Coke and sparkling water.
Their house is well-suited to entertaining, with its vast rolling dog-friendly lawn. Singles and stragglers are always welcome.  A good time is had by all.
Although I have a thousand photos of Thanksgiving at Jani's, this blog is ostensibly about Thanksgiving in 1993, the first and last time I hosted the Rowell clan at our house.  I'm posting those photos today to prove it.